Fun Fitness
Fall into Fitness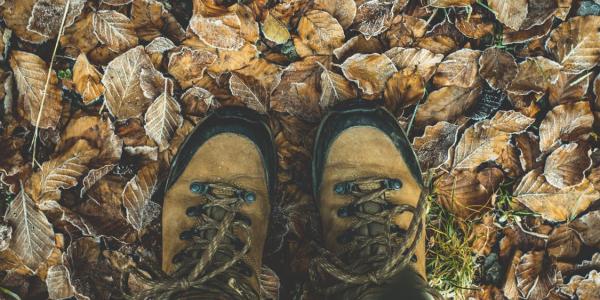 Autumn is an excellent time to get active while enjoying time in Michigan's great outdoors. Use these tips to help jumpstart your fall activities.
Autumn is truly a feast for the senses, especially on the campus of Michigan State University. Next time you get a moment, stop and take it all in. The leaves abandon their green hues and graduate to complex shades of amber and crimson. The air is noticeably cooler and carries an unmistakably crisp, organic aroma. On certain Saturdays, you can hear 75,000 voices strong roar 'Go Green, Go White' from inside the confines of Spartan Stadium. And love it or hate it, pumpkin-spice everything is back and inescapable as ever. The long sunny days of summer have once again come to a close. The warm weather finally relents to a colorful, inviting climate that offers numerous opportunities for outdoor recreation.
The Centers for Disease Control recommends that for optimal health, adults engage in at least 150 minutes of moderate intensity-activity each week. Fortunately, many of the autumn pastimes you may already enjoy likely fall into this moderate activity category. Sharing outdoor time with family or friends is a rewarding way to improve your health while appreciating the beauty and tranquility of an autumn day. If you are anxious to spend some time outdoors before winter clinches its icy grasp across Mid-Michigan, consider some of these activities:
• Take a trip to a local pumpkin patch and find the perfect gourd.
• Enjoy a scenic walk or bike ride. MSU has miles of walking paths and bike lanes meandering through campus. Explore the numerous parks, trails, and natural areas in the Capitol area.
• Rake leaves in the yard (and jump in the leaf pile for bonus points).
• Try your hand at solving a corn maze.
• Participate in one of the many 5k run/walk events that take place in the fall. Halloween-themed costume runs can be fun for the whole family. Thanksgiving 'Turkey Trot' events are great for getting your group moving before a day of eating, watching football and napping.
• Check out a fall festivals or art fair. These events can offer an enriching cultural experience as you engage in physical activity. https://www.michigan.org/fairs-festivals
• Visit a U-Pick farm and grab some fresh seasonal produce.
• See the colors by water. Canoe or kayak trips are a great upper body and core workout, and Michigan is teeming with navigable lakes, rivers, and streams.
• If you plan to travel for vacation or family visits, pack your active clothes and shoes. Walking, jogging, cycling, or rollerblading are great options for exploring an area.
Rather than waiting until the New Year, some find that the fall season is a valuable time to jump start next year's fitness goals. By adopting healthy habits now, you may be more likely to carry those practices into and through the New Year. Regardless of your goals, fall is an excellent time to get active, re-energize your fitness routine, and spend quality outdoor time with friends and family. Want to learn more about incorporating movement into your everyday life? For additional resources, classes and upcoming events, visit MSU Moves online at http://health4u.msu.edu/msu-moves.
Related Articles
More MSU Moves Articles