Thinking About Drinking: Tips & Tools
Cutting Down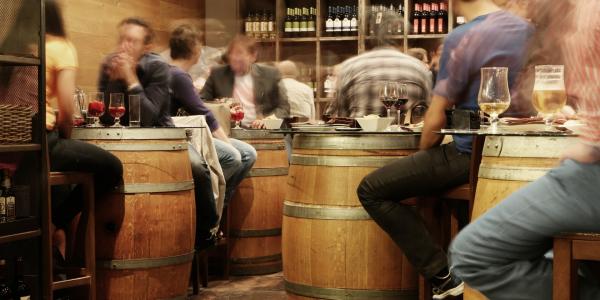 Thinking about Cutting Down on Your Drinking
If you're thinking about cutting down on the amount of drinking you do, you'll probably want to make sure that you've talked with your doctor first. Your doctor will be able to help you decide if you should cut down, or if you should quit drinking completely.
To get started, though, you might want to answer these questions:
Have you tried to cut down your drinking in the past, but it's been difficult to maintain the limits that you've set for yourself?
Do you have the symptoms of an alcohol use disorder?
Do you have a medical problem or physical condition that is worsened or caused by drinking?
Are you taking medications that interact with alcohol, such as sleeping pills, anti-anxiety medications or anti-depressant medications, or blood thinners?
Are you, or could you become pregnant?
If you answered yes to any of these questions, it is strongly advised that you quit drinking altogether. Please refer to the section about quitting drinking for more information.
Cutting down - What to do, what to consider
So, if you're thinking about cutting down, know that small changes in your drinking patterns can make a big difference when it comes to alcohol-related problems down the line. The National Institute on Alcohol Abuse and Alcoholism (NIAAA) has put together a list of strategies to try to cut down on your drinking; we've listed a few of them below. Give some of these ideas a shot, and if you're curious you can check out their website for more ideas for cutting down.
Here's the thing about these strategies, though: you need to give them a fair shake, which means you have to try them in earnest for a few months before you will know if they're going to have any meaningful impact on your life. But, if you've tried these and you haven't seen much progress in two or three months, or if you're still seeing the same problems crop up because of your drinking, you really might want to consider quitting altogether or seeking professional help.
A Few Tips for Cutting Down
Keep track of how much you drink. This sounds like a pain, but it can be very helpful to get a sense of how much you're actually drinking. Find a way that works for you: carry drinking tracker cards in your wallet; make check marks on a kitchen calendar; enter notes in a mobile phone notepad or personal digital assistant. Whatever works for you, just do it! Paying more attention to how much and how often you are drinking can really help you slow down when you need to.
Set goals. Decide how many days a week you want to drink and how many drinks you'll have on those days. Make sure that you decide to have several days in a week that you decided not to drink at all, too. Pay attention to those low-risk limits and set your week up to fit within those recommendations – remember, drinkers with the lowest rates of alcohol use disorders stay within those limits.
Find alternatives. What else could you do with your time if you aren't going to be spending it drinking? One of the things that people sometimes run into trouble with when they decide to cut down is that they don't plan ahead about what they'll do with their newfound free time. When they don't plan, they end up bored, and, guess what? They start drinking heavily again! So, instead, come up with some new ideas right now, while you're thinking about it. What do you like doing? What haven't you done in a while that might be fun to start up again? Look around for others who might also be interested in doing some of these kinds of things with you.
Avoid "triggers." What makes you think about having a drink? Is it a nice, crisp fall day before a Spartan football game? Maybe it's having a hard day at work, seeing that the clock says that it's time to go home has you thinking about that bottle you have over the fridge. Or, perhaps, it's seeing your friends at the pub Friday nights. Whatever it is, it might be worth you spending some time deciding what kinds of situations, people, or places tend to make you think about drinking. If certain things trigger these thoughts or urges more often than others, make plans to do something else in those times, or avoid them altogether. If drinking at home is a problem, consider keeping little to no alcohol there.
Interested in more ideas to help you cut down how much you drink? Check out the rest of this list at Rethinking Drinking's site. Want to know more about quitting options? Continue here.

Related Articles
More ANDI Articles