Recipe For Health
Caprese Salad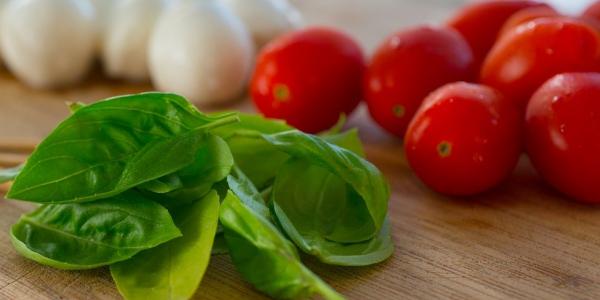 by Corporate Chef Kurt Kwiatkowski
Ingredients
2 Roma tomatoes
½ pt. grape tomatoes
4 T. fresh basil, *chiffonade cut
3 T. Basil Olive Oil
1 t. Balsamic Vinegar
8 oz. Buffalo Mozzarella, cubed
Sea salt and freshly Ground Black Pepper to taste
Preparation
Put tomatoes, basil leaves, basil oil, balsamic vinegar, salt and pepper in a bowl. With your hand, gently mix everything together and squeeze the tomatoes a bit to release some of their juices.
Add mozzarella and gently toss to blend everything together. Finish with a drizzle of balsamic vinegar as desired. Add salt and pepper to taste. Serve immediately.
* "Chiffonade" is a hand-cut of herbs or leafy greens into very fine ribbons. Chiffonade is distinct from shredding in that the cuts are much finer and more uniform. Stack several leaves on top of each other and then roll them tightly. Use a chef's knife to make very fine, parallel cuts across the leaves to produce fine shreds."
Learn More About Basil
The fragrances of summer are fading fast but not sweet basil. This tender herb thrives, replenishing its leaves and offering its bouquet, right up until fall's first frost causes its sudden and untimely death. From vibrant bush to blighted stick with just one dip on the nighttime thermometer.
Over 40 varieties of basil exist with twelve or so cultivated for culinary use. Sweet basil, Ocimum basilicum, is the most common. Ocimum is from the Greek verb meaning "to be fragrant." Its broad green leaves are just that, bringing a wonderfully spicy flavor and a hint of mint and clove to the palate. Cinnamon, lemon and anise varieties add the distinctive flavors implied by their names.
Basil is best known as the main ingredient in pesto, a name derived from the Italian word meaning to pound or bruise. Originally, pesto was made by placing basil leaves in a mortar along with garlic, salt and pine nuts, then grinding with a pestle to form a paste. Any kind of dry sharp cheese was pounded in then whisked together with olive oil.
Today, given the ease of making pesto with a food processor, we might rename the concoction "presto!" Simply place washed and dried basil leaves (lots of them), garlic cloves, toasted pine nuts and salt in the bowl of your food processor. Pulse it a few times. Then, with the machine running, slowly pour in the olive oil. Stir in grated parmesan cheese.
The best way to preserve your seasonal abundance of basil is to stick a few jars of pesto in the freezer. Once you have filled the jars, a little more olive oil drizzled on top seals the deal, keeping the exposed pesto from turning brown. Add a tight fitting lid and sit upright in the freezer. About mid-winter, you will be delighted to find this tasty treat tucked away, quick to thaw and toss with pasta or vegetables or dollop on bread or fish. With pesto, anything goes.
Peggy Crum MA, RD
Featured Recipes
More Food and Nutrition Recipes