Cinnamon Pecan Bread Pudding
Culinary Cooking and Concepts
Cinnamon Pecan Bread Pudding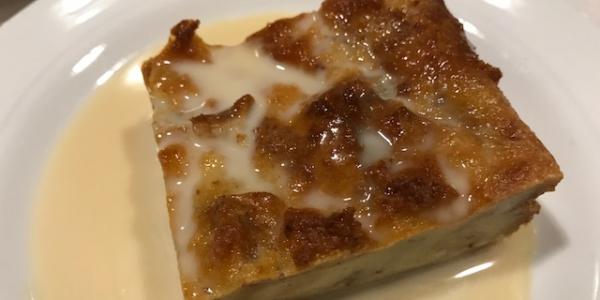 Chef Katie Chapman, Pastry Chef, The University Club of MSU
Featured Food: U Club Classics Yield: 8-10 servings
Ingredients
Bread Pudding:
¾ c. sugar
4 eggs
2 c. half and half
2 c. milk
1 T. vanilla
10-12 oz. cinnamon-pecan rolls or cinnamon swirl bread, chopped (about 7-8 cups)
Caramel Sauce:
½ c. caramel (store bought caramel topping)
4 c. heavy cream
Preparation
For the bread pudding:
In a bowl, whisk together sugar and egg yolks. Add in the half and half, milk and vanilla and whisk together until no lumps. Spread chopped bread evenly in a 9 by 13-inch baking dish. Pour custard mix over the top. Let sit for 20 minutes. With your hands, break and smoosh apart the pieces of bread.
Preheat oven to 350°F. Bake for 35-40 minutes. Test for doneness by jiggling the pan. Bake until middle doesn't wiggle.
For the caramel sauce:
On the stove, heat caramel and heavy cream until warm and mixed. Pour over bread pudding. Let sit for 10 minutes before serving.
Featured Recipes
More Food and Nutrition Recipes