Herby Orzo Salad with Lemon Vinaigrette
Sensible Meals
Herby Orzo Salad with Lemon Vinaigrette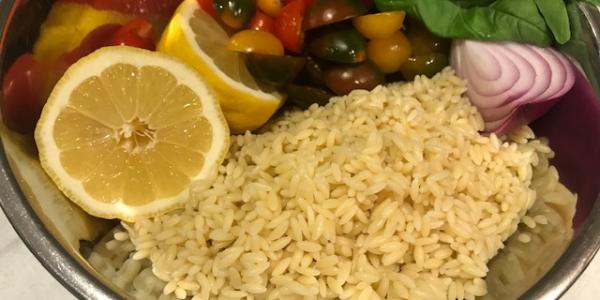 Adapted from Gina's Orzo Salad from foodnetwork.com by Peggy Crum, MA, RD
Featured Food: pasta salad Yield: Serves 4 as entree salad, 6 to 8 as side salad
Ingredients
1 pound orzo (or other small pasta shape)
2 t Dijon mustard
1/2 c olive oil
3 to 4 T fresh lemon juice
1/2 t Kosher salt
1/2 t freshly ground black pepper
2 c halved cherry tomatoes, mixed colors if desired
1 c slivered almonds, toasted
1/2 c thinly sliced red onion or shallot
3 green onions, thinly sliced
1/4 c chiffonade fresh basil
5 oz package crumbled feta cheese
Preparation
Cook orzo in a large pot of generously salted boiling water for 8 to 10 minutes, until barely tender (al dente). Careful not to overcook. Drain, spread out, and let cool.
In a large bowl, whisk Dijon mustard, olive oil, and 3 T lemon juice. Add salt and pepper to taste. Add the orzo and toss.
Keep adding to the bowl: tomatoes, almonds, red onion, green onions, basil, and feta. Toss and taste. Add more salt, pepper, and lemon juice to suit your taste. Cover and chill until you're ready to serve. Refrigerate up to 3 days.
Featured Recipes
More Food and Nutrition Recipes