Culinary Cooking and Concepts
Napoleon Salad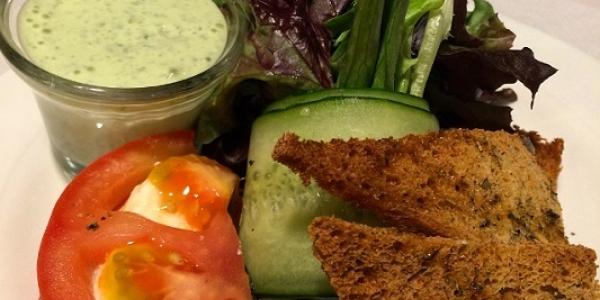 Executive Chef John Findley, University Club of MSU
Featured Food: Napoleon Salad Yield: 6 servings
Ingredients
3 large ripe tomatoes (6 slices per tomato)
2 large fresh mozzarella balls (6 slices per ball)
6 large fresh basil leaves
Salt and pepper
18 oz. mixed greens
1 cucumber, sliced lengthwise into ribbons
Toast points, optional
Creamy Basil Dressing:
10 fresh basil leaves
2 c. buttermilk
4 c. mayonnaise
Juice from ½ fresh lime
Salt
Pepper
½ t. garlic salt
Preparation
For the salad:
Using a baking tray, place six slices of tomato on the tray. Top each tomato with a slice of mozzarella. Then top each with another slice of tomato. Sprinkle all with salt and pepper. Add another slice of mozzarella to each. Place a fresh basil leave on top of each slice of cheese. Finish by adding a slice of tomato to each stack. Refrigerate.
Using six salad plates, place 3 oz. of mixed greens onto each plate. Cut the tomato-mozzarella stack in half and place each onto the plate. Drizzle the basil dressing on the lettuce or serve dressing on the side. Add toast points if desired.
For the dressing:
Combine all ingredients in blender until smooth and all the basil leaves are pulverized.
Featured Recipes
More Food and Nutrition Recipes