What's on hand
Oatmeal Bars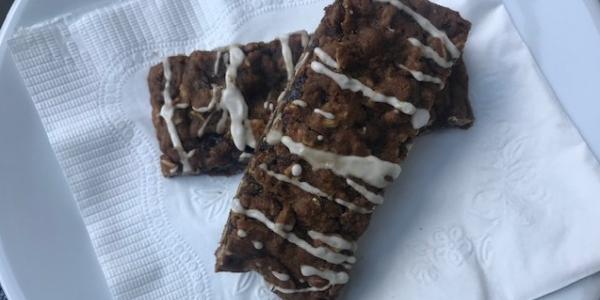 Recipe adapted from Cook's Country
Featured Food: Old-fashioned rolled oats Yield: 3 dozen
Ingredients
1 ¾ c (8 1/2 oz) all-purpose flour
1 t baking soda
1 t ground cinnamon
1 t salt
½ t ground ginger
8 T vegetable shortening or unsalted butter
1 ¼ c (8 3/4 oz) granulated sugar
2 large eggs
⅓ c (3 3/4 oz) molasses
1 t vanilla extract
2 c (6 oz) old-fashioned rolled oats
1 c (6 oz) raisins or other dried fruit such as cherries or cranberries
⅔ c walnuts or pecans, chopped
½ c (2 oz) powdered sugar
2 t milk
½ t vanilla extract
Preparation
Preheat oven to 350 degrees.
Measure the dry ingredients into a bowl and whisk to combine. Set aside.
In mixer bowl, mix shortening or butter and sugar until fluffy. Add eggs, molasses and vanilla; mix. Scrape down the sides of the bowl and mix again.
Add oats, raisins and nuts; mix briefly. Divide dough into 4 equal parts. Line 2 baking sheets with parchment paper or silicone baking mats. Form each dough quarter into a log about 8 inches long and 2 inches wide.
Bake for 9 minutes, turn baking sheets and bake another 8 or 9 minutes. Cool for 5 minutes. Move to cutting board and cut across the logs into 1 1/2 inch slices.
Make glaze by mixing powdered sugar, milk, and vanilla. Whisk until smooth. When the bars are cool, use the whisk to drizzle glaze across the bars.
Recipe adapted from Cook's Country.
Featured Recipes
More Food and Nutrition Recipes