Recipe For Health
Braised Bok Choy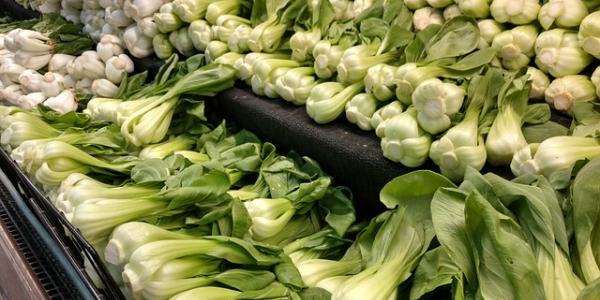 Ingredients
1 c. vegetable broth
1 ½ lb. bok choy, trimmed and chopped in 1" pieces
1 T. miso paste
1 clove garlic, minced
1 t. minced fresh ginger
1 T. butter
1 t. tamari
1/2 t. toasted sesame oil
Salt and pepper to taste
Preparation
Bring broth to a simmer in a deep large heavy skillet.
Arrange bok choy evenly in skillet; cover and simmer until tender, about 3-5 minutes.
Use tongs to transfer bok choy to a serving dish; cover and keep warm.
Add miso paste, garlic and ginger to broth in skillet. Boil broth mixture until reduced to about ¼ cup. Stir in butter, tamari and sesame oil. Season with salt and pepper to taste. Pour sauce over bok choy and serve.
Learn More About Bok Choy
Bok choy is a sturdy green from the brassica family. Also known as cruciferous vegetables, the brassica cousins include broccoli, cauliflower, Brussels sprouts and cabbage. Sometimes bok choy is referred to as Chinese cabbage however that name also applies to dozens of other types of non-heading cabbages. Bok choy resembles leafy greens such as chard but does not shrink down as much when cooked.
When shopping for bok choy, don't choose the largest bunch. Look for a medium size bunch, one that weighs 1 ½ to 1 ¾ pounds. Any larger than this, the stems tend to be spongy and woody. The leaves should be bright and crisp on bright white stems. Brown spots on the stems and yellow or wilted leaves are signs that it is past its prime.
You may keep bok choy in a loosely sealed plastic bag in the refrigerator for 2 or 3 days. When you're ready to use it, trim off and discard the bottom inch of the stalk allowing the stems to separate for easier washing and drying.
When cooking bok choy, it's best to think of it as two vegetables—the fleshy stems and the green leaves. After washing, remove the stems and cut them into ¼-inch slices. Stack the leaves and cut into ½-inch strips. Depending on the texture you prefer, try one of these cooking methods:
Tender-crisp: Stir fry stem slices for 5 minutes, until slightly browned. Add leaf strips and cook until wilted.
Creamy-tender: Stir fry stem slices for 5 minutes then add leaf strips and braise (as in the featured recipe) in some type of liquid such as broth, wine or water.
Bok choy is mildly flavored with an underlying sweetness that adapts well to a variety of seasonings. Add ingredients such as garlic, mushrooms, ginger, red pepper flakes and scallions as you stir fry or braise to give bok choy an interesting twist.
Peggy Crum, MA, RD
Featured Recipes
More Food and Nutrition Recipes