Spicy Moroccan Chickpea Soup
Recipe For Health
Spicy Moroccan Chickpea Soup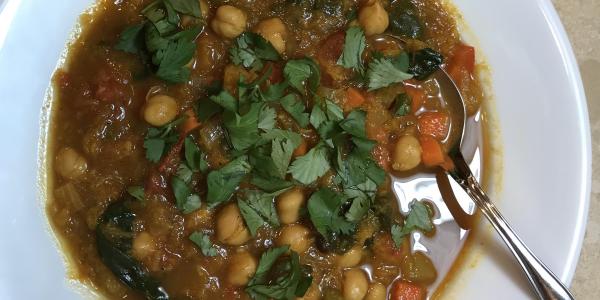 Corporate Chef Kurt Kwiatkowski, MSU Residential Dining Services
Ingredients
¼ c. olive oil
1 ½ c. diced white onion
1 c. diced celery
1 c. diced carrots
1 c. diced red pepper
2 T. minced garlic
1 t. cinnamon
2 t. turmeric
4 t. cumin
1 t. chili powder
2 t. paprika
½ t. cayenne pepper
1 qt. vegetable or chicken stock
1-14 oz. can diced tomatoes
1-12 oz. package frozen winter squash
1 t. sugar
2 cans chickpeas (drain and rinse)
1 pinch saffron threads (optional)
5 oz. baby spinach
Salt and pepper to taste
¼ c. chopped cilantro
Preparation
Pour olive oil in a soup pot over medium heat; when warm, add onions, celery, carrots and peppers and sauté for five minutes. Add garlic, cinnamon, turmeric, cumin, chili powder, paprika and cayenne to the pot and sauté for an additional two minutes. Add vegetable or chicken stock, diced tomatoes, squash, sugar and chickpeas and let simmer on medium-low heat for 20-25 minutes. Add saffron if using.
Use a potato masher or an immersion blender to mash/blend some of the chickpeas and vegetables to thicken the soup. Add the spinach and let cook for only about five minutes.
Taste. Season with salt and pepper. Garnish with chopped cilantro.
Learn More About Chickpeas
Chickpeas are quite the international little bean. Named garbanzo in Spain and Latin America, ceci in Italy, grão-de-bico in Portugal, Bengal gram in India, hummus in Arab countries and shimbra in Ethiopia, chickpeas are a pantry staple in much of the world.
I found a range of advice on preparing chickpea dishes (using canned versus dried, soaking versus not) so I went into my laboratory (kitchen) to do some experimentation. Here is a summary of my findings:
1 can of chickpeas ($1.09), drained and rinsed, yielded 1 ½ cups of chickpeas. The texture was firm and a bit grainy and the taste was salty with a metallic aftertaste, especially prominent with some brands.

1 pound of dried chickpeas ($1.50), brined (3 tablespoons salt: 1 gallon water) for 8 hours, drained and rinsed then simmered for 1 hour 15 minutes, yielded 6 ½ cups of chickpeas. Using a pressure cooker reduced the cooking time to 15 minutes. The chickpeas held their shape, the texture was creamy smooth and the flavor was nutty.

Eaten plain, the flavor of canned chickpeas did not hold a candle to chickpeas cooked-from-scratch.

Canned chickpeas were totally acceptable when whirred in the food processor with lemon juice, minced garlic, tahini, olive oil and other spices to make hummus. The strong flavors in the soup recipe I used also covered for the canned chickpeas.
Dried chickpeas that were brined and rinsed more than doubled in volume. They were ready to use in the falafel (chickpea fritters) and soup recipes and for roasting chickpeas (I tossed them with olive oil, salt and spices before popping them in the oven).
Cooked chickpeas froze well.

If you love the convenience of canned chickpeas, consider a follow-up study. Gather together the various brands of canned chickpeas available where you shop and do a taste test of your own. Be prepared to make several batches of hummus!
Peggy Crum MA, RD
Featured Recipes
More Food and Nutrition Recipes