Recipe For Health
Walnut Spinach Pesto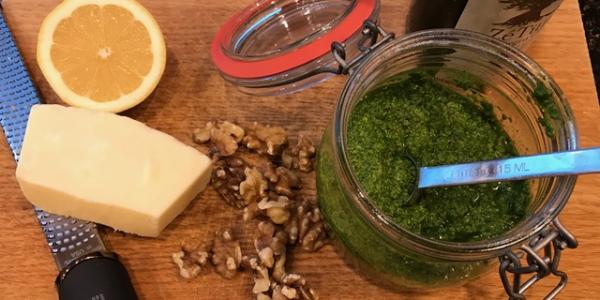 Ingredients
½ c. shelled walnut pieces
1 c. parsley
3 oz. baby spinach
2 cloves of garlic
½ Jalapeno pepper, seeded and rough cut (add more or less depending on desired heat)
¼ c. grated Pecorino Romano cheese (can substitute Parmesan or Asiago)
⅓ c. extra Virgin Olive Oil
1 t. lemon zest
Salt and Pepper to taste
Preparation
In a non-stick sauté pan over medium heat, roast walnuts for five to six minutes or until they become fragrant.
Place the roasted nuts and garlic into the food processor and blend for one minute.
Add in parsley, spinach, cheese and jalapeno and pulse until mixed well. Continue to pulse mixture while streaming oil into processor.
Add lemon zest, and salt and pepper to taste.
Learn More About Walnuts
Walnuts have a love connection that makes them the perfect match as February's featured food. Folklore dating back to Juno, the Roman goddess of women and marriage, declared the walnut a symbol of fertility. Whether this had to do with the nut as a seed of life or the heart shape of walnut's two lobes, no one knows for sure.
Another tidbit that no one knows for sure is why the common walnut is called English. Although walnuts were prized throughout Europe, walnut trees grew best in Asia and America. The most likely explanation is that the name passed down from medieval times when English merchant sailors transported and traded walnuts across the globe. Today, two-thirds of the world's English walnuts are produced in California where there is a movement afoot to rename them California walnuts.
Harvest time begins in August and lasts into early November. The industry utilizes ideal storage conditions to allow walnuts to be available year round. Walnuts in the shell should be free of cracks and holes. Shelled walnuts should be plump and meaty and should break easily.

Walnuts possess a unique blend of polyunsaturated and omega-3 fatty acids which is good for health but bad for shelf-life. Stored at room temperature, walnuts easily can turn rancid. Shelled walnuts may be stored up to 6 months in the refrigerator or up to 1 year in the freezer.

English walnuts have a subtle flavor that lends itself well to many culinary applications:
Add ground walnuts to breadcrumbs for coating salmon, chicken or chops.

Mix walnuts, raisins and raw oatmeal or bran to make granola.

Replace pine nuts with walnuts when making pesto.

Add flavor and crunch by toasting walnuts in a large, dry skillet over medium heat, stirring frequently until light brown, about 1 to 2 minutes. Add sweetness to the crunch by using ¾ cup walnuts, ¼ cup sugar or 2 Tablespoons maple syrup and a pinch of salt and stirring constantly over medium heat until caramelized.
By Peggy Crum MA, RD
Featured Recipes
More Food and Nutrition Recipes